We are creating a new website
(Ammon Little League Baseball)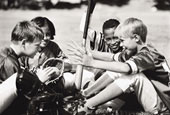 Going into our 7th year of being affiliated with the official Little League we are excited! 2014 looks like a promising season of competitive baseball. Here are some advantages for being part of our league.
Regular Season -
Safety, safety, safety! LL is big on the safety of all participants.
Convenience! All games are played on Ammon fields which means we don't have to travel all over the valley in order to play baseball.
Cost! Our fees include Pants, Shirt and Hat for every boy. All teams will play between 12-16 games. And since we don't drive all over the valley, we save on traveling costs, ie; gas, time, lodging.

All-Stars -
We offer the most competitive and world recognized program of any league in the 8-12 yr old age divisions. This is the same All-Star World Series that is televised on ESPN and ABC. This is NOT a pay-to-play set of tournaments. Teams earn their way through Districts, State, Regionals and finally the World Series.
More Leagues Wanted
We need to get more leagues to join this fine organization so we can have are own Little League district in Eastern Idaho. The nice thing about Little League is that a league can still have their own identity and can run as the local league sees fit as long as you don't break any overall safety rules. Contact Joe Belnap if you would like to learn how you can be part of the new Little League district in Eastern Idaho.